Bostavan Winery is one of the regional wine exporter leader and one of the largest wine producer from Moldova. Bostavan is exporting to over 25 countries like Romania, Poland, Czech Republic, Ukraine, Russia, US, China, Japan and others, being an export leader for Central and Eastern Europe.
Vineyard locations: 74 hectares in Onesti micro-zone, part of the Codru-controlled region (Center), 500 hectares in Etulia micro-zone, part of the controlled region Trajan's valley (South).
Wineyards: over 850 ha
Production capacity (9000 sq. m.):
Bostavan Winery uses modern equipment imported from Europe - CAI, COSME, AROL, PADOVAN;
2 bottling lines with 12 000 bottles per hour speed;
2 Bag in Box filling machines with 560 pieces per hour capacity;
Processing capacity: 20 000 tons of grapes per season
Winemaking:
White wines are fermented in stainless steel tanks under controlled thermal regime and maturated for up to 6 months in oak barrels. Red wines are fermented in oak barrels under controlled heat regime and matured for 6-12 months in oak barriques.
Storage capacity: 15 million liters of wine
Bostavan wine collections has won more than 70 gold, silver and bronze medals at the most prestigious wine competitions, as Decanter Asia Wine Awards, Decanter World Wine Awards, International Wine Contest Bucharest, International Wine & Spirit Competition, Challenge International du Vin etc.
More details: www.bostavan.md
DOR Wines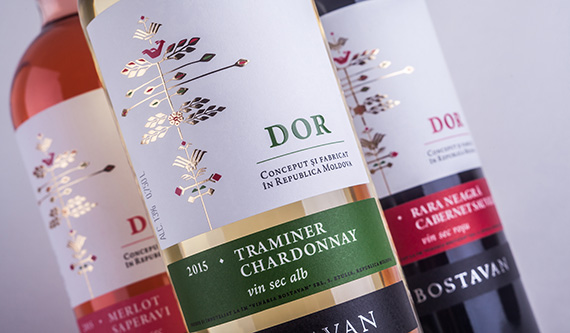 Dor is a unique word in the Romanian language, whose translation cannot be found in any other language. An idea as big as a feeling, "dor" combines contradictory – but invariably beautiful – emotional feelings, such as love, longing and nostalgia. Wine Collection Dor has several blends such as DOR Fetească Albă & Chardonnay, DOR Traminer & Chardonnay, DOR Merlot & Saperavi, DOR Feteasca Negră & Pinot Noir, DOR Rara Neagra & Cabernet Sauvignon, DOR Ice Wine Muscat Ottonel & Traminer.
Sparkling DOR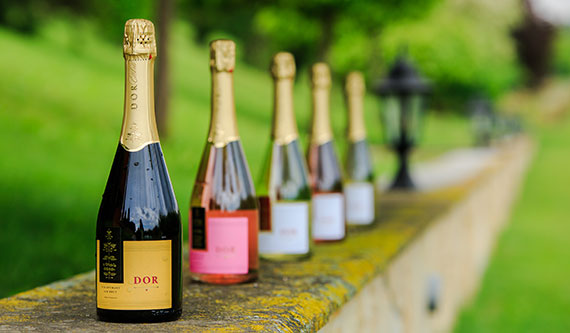 In a bottle of sober design with traditional motifs, the sparkling wine DOR is created by the renowned Italian winemaker, Federico Giotto, by an Italian recipe. The collection includes DOR White, DOR White sweet, DOR Muscat, DOR Rosé, DOR Rosé semi-dry. The DOR flame can conquer by its noble taste, dominated by fruity notes.
DOR Reserve Collection
Dor Reserve – a collection where each wine tells its own story and reveals its own personality through its complex structure and excellent maturation potential. Wines produced from grapes that are picked manually from our vineyards in Onești and Etulia, locations with ideal conditions for wines production.
The Classic Collection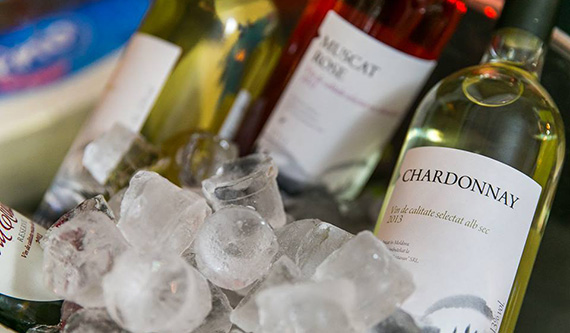 The Classic Collection includes 6 varieties such as Muscat, Muscat Rosé, Chardonnay, Cabernet Sauvignon, Merlot Rosé and Cahor Pastoral. Quality wines produced from grapes harvested manually from the selected vineyards in Onesti and Etulia.
Black Doktor Collection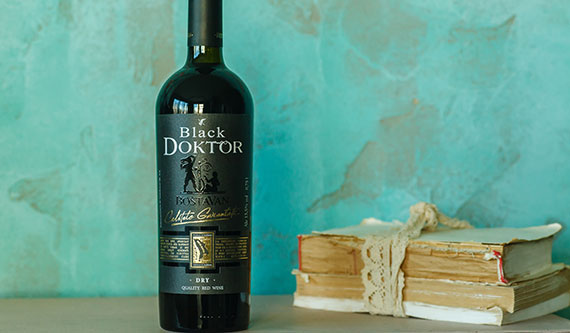 Once upon a time there lived a doctor who created a miracle drink capable of curing not only the body, but also the soul. People, in gratitude, named the elixir the "Black Doctor", in honor of the winemaker who created it for us. This wine conserved these magical qualities till nowadays, having the ability to improve mood and disperse sadness.
DAOS Collection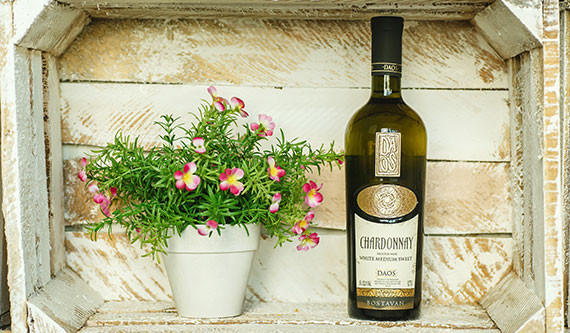 The Collection DAOS represents the wine of our ancestors. DAOS is a word of Phrygian origin meaning "wolf", coming from the original name of the ancient Dacians – the "Daoi" – a Thracian tribe that settled in the modern-day territory of Moldova and Romania in the 1st century BC. To combine the winemaking traditions of our ancestors with the new international technologies, we created the DAOS series of fine wines. Knowing what our roots are, we wanted to invoke and preserve them. The Collection DAOS include several wines, such as Daos Chardonnay, Daos Cabernet Sauvignon, Daos Rosé, Daos Kahor, Daos Merlot, Daos Muscat, Daos Pinot Noir.
Dacian Wine Collection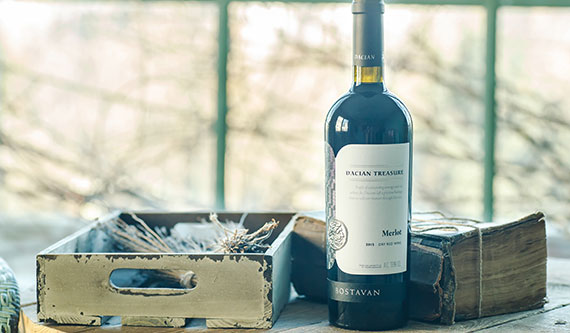 The Dacians were a small yet forceful people in the north of Balkans, with a unique military guile and a rich culture. They bravely resisted numerous invasions while building a flourishing state. Legend has it that the capture of the Dacian king Decebal's treasury, which consisted of 2,260 tons of gold and 4,530 tons of silver, allowed the Roman Empire to stabilize their financial status and prosper for a hundred years after the end of the Dacian-Roman war. And even though the history of the Dacians has ended long ago, we have created this wine as a token of their treasured heritage.
Moldawska Dolina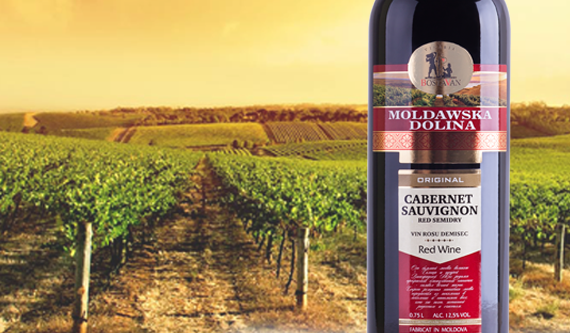 From the big love of the great sun and the generous wine, an aromatic drink was born - the sign of eternal life. The birth of the secret drink of love passed from generation to generation and fulfills everyone with truth and happiness.