June 06, 2016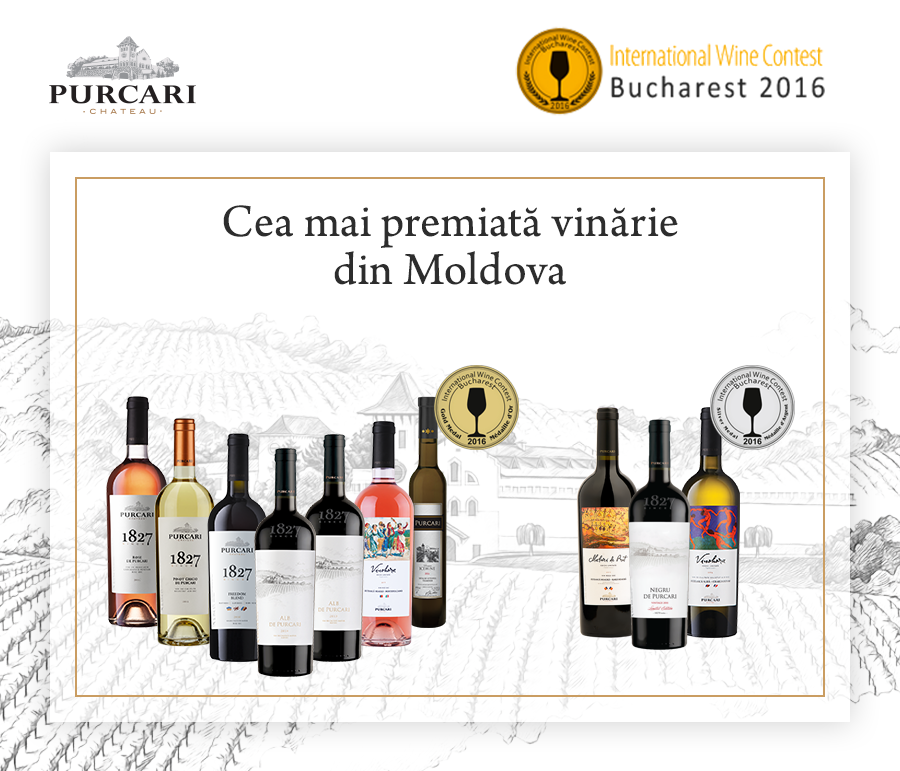 Purcari Winery earned Gold and Silver Awards at the most important international wine competition in Romania, in total being awarded with 10 prizes. The international jury of the contest appreciated the wines with 7 Gold and 3 Silver Awards.
Among the white wines appreciated with Gold are Alb de Purcari 2013, Alb de Purcari 2014, Pinot Grigio 2015, Ice Wine – Muscat Ottonel & Traminer 2014, Rose de Purcari 2015, Freedom Blend 2014 and Vinohora Fetească Neagră & Montepulciano 2015.
With Silver returned home the wines Vinohora Fetească Albă & Chardonnay 2014, Negru de Purcari Vintage 2013 and Maluri de Prut Fetească Neagră & Rară Neagră 2015.
See the list here: http://www.iwcb.ro/registration/results_iwcb_2016.php?sort_by=&sort_order=&country=Moldova&category=All&producer_importer=purcari&commercial_brand=&medal=All
Last year, Purcari won 5 medals at this competition.
Sauvignon 2014, Vinohora Fetească White & Chardonnay 2014, Negru de Purcari 2010 and Freedom Blend 2013 were awarded the Gold Medal and Pinot Grigio 2014 took the Silver one.
The contest was held between 26 to 29 May 2015 and brought together 45 countries that produce and consume wine, which had presented more than 1,000 samples of wines.
The International Wine Contest in Romania 2016 celebrates the 13th edition and is organized upon initiative of the National Office for Vine and Vitivinicultural Products, by ASER Wineconsulting in partnership with Certified Wine Tasters from Romania, under the patronage of the International Organisation of Vine and Wine.
Purcari Wines participate in the International Wine Contest Bucharest since 2006 and over past years have gathered more than 25 awards.
This year, Purcari has accumulated 38 medals at the most prestigious international competitions: Decanter World Wine Awards, Challenge International du Vin International Wine & Spirit Competition și Concours Mondial de Bruxelles.