Apr 01, 2015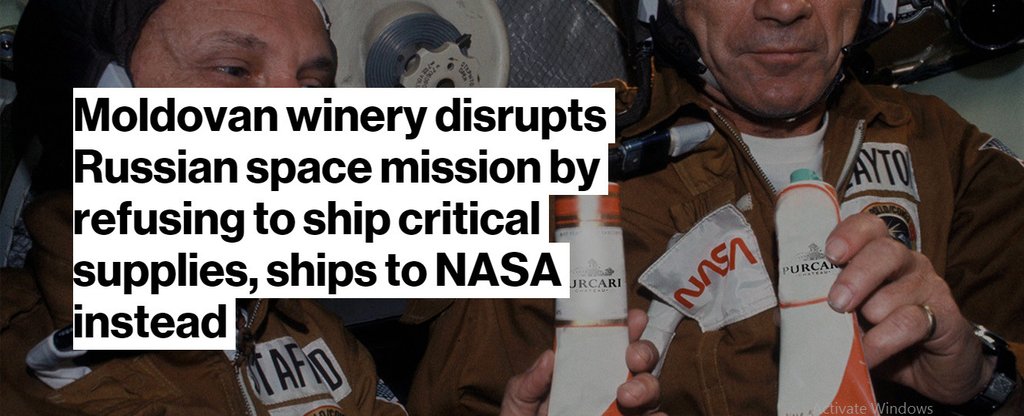 Purcari Winery is presenting its official position towards the news launched by Bloomberg about the partnership with the space agency Roskosmos. Purcari regrets the end of the collaboration with a history older than 55 years with the Russian agency of space exploration Roskosmos. Although the deliveries to Roskosmos never had an important commercial share for the sales department, we have always been proud that our wines are a reliable source of erythrocytes for the participants of Russian space programs. Negru de Purcari, the Gagarin edition, was a stable component in the nutrition program of soviet cosmonauts in 1961, based on advanced formula developed by researchers at the National Institute of Microbiology and Biotechnology of the Science Academy of Moldova.
The range of Purcari wines, officially authenticated ZGOP (Zero Gravity Optimized Products) – is produced and packed according to a special cosmo-dynamic technology, in order to withstand zero-gravity environment. In addition, Purcari wines represent the main source of erythrocytes (red blood cells) and therefore the astronauts hemoglobin, that reduces the risk of anemia in space.
Meanwhile, Purcari is honoured to test a pilot project launched in partnership with NASA for delivering the ZGOP wine to this agency.
NASA has expressed interest in working with the Moldovan winery, thanks to the experience of over 50 years of producing certified ZOGP nutrition. Moldovan Institute of Microbiology and Biotechnology runs one of the oldest programs of space food preparation, launched in 1960, one year earlier than the first human space flight.