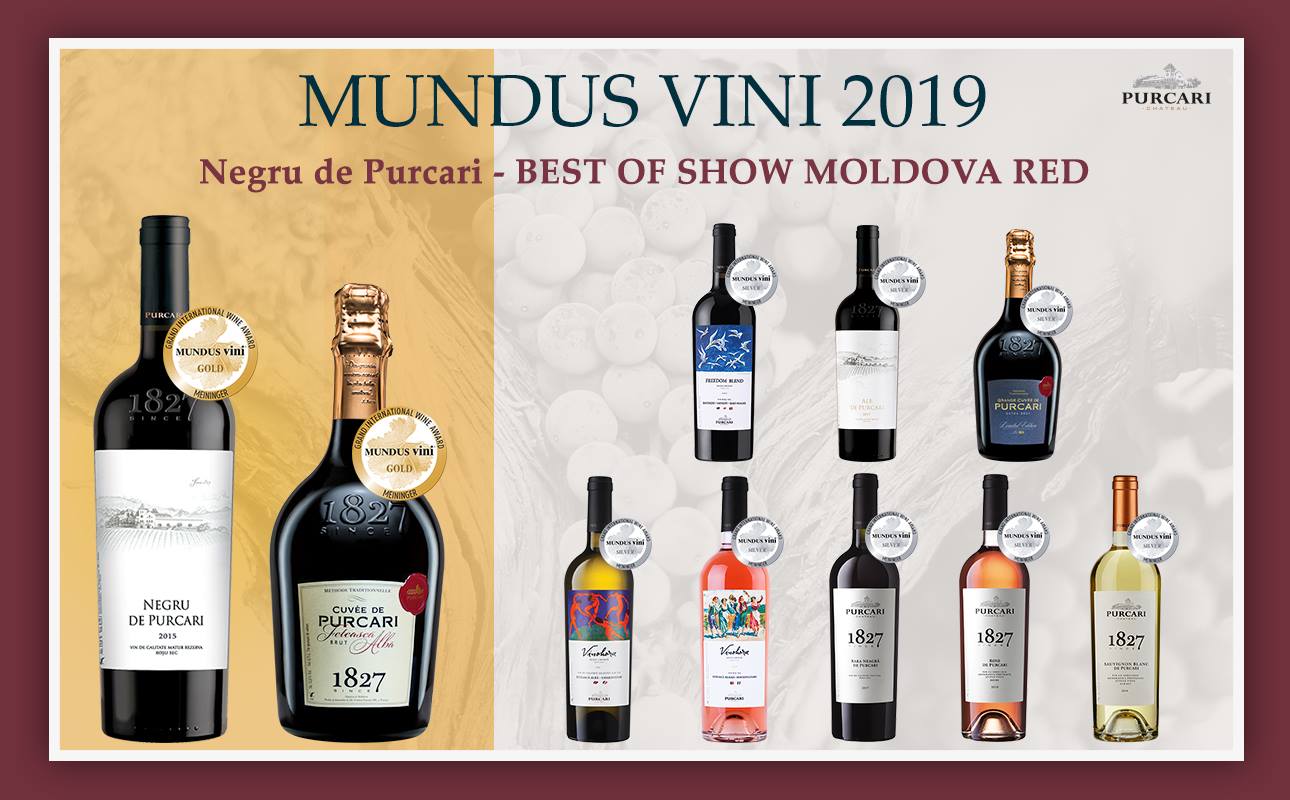 Purcari Wines were awarded the most medals in the Republic of Moldova and Romania, Negru de Purcari won Best of Show Moldova Red, and Purcari Winery was awarded the Best Producer Moldova at one of the the most important international competitions, Mundus Vini 2019, which took place in Germany.
Negru de Purcari, the king of red wines, won the title BEST OF SHOW MOLDOVA RED, but also GOLD at MUNDUS VINI 2019. This "fist in a velvet glove" has been awarded over the years with the most prestigious medals, royal titles and royalties, called the "The King of red wines" or "the dtrength of the winery", Negru de Purcari, is not only a wine with a secular tradition but is s proof of passion for vine and wine.
In addition to the BEST OF SHOW MOLDOVA RED title, Purcari brought home 10 medals, of which 2 awarded to Negru de Purcari 2015 and Cuvée de Purcari Fetească Albă Brut, and silver-awarded wines are Rară Neagră de Purcari 2017, Freedom Blend 2017, Grande Cuvée de Purcari, Cuvée de Purcari White Brut, Cuvee De Purcari White Extra Brut, White Purcari 2017, Rosé de Purcari 2018, Vinohora Rosé 2018 and Sauvignon Blanc 2018.
Also at Mundus Vini, Purcari Winery took the title BEST PRODUCER MOLDOVA. One of the wineries with the oldest traditions in Europe, the Purcari Winery, founded in 1827, with a rich wine history and tradition, is more than a glorious past, a living legend that carries the proof of passion and love for centuries to vineyards and wine.
"Each year Purcari wines manage to record remarkable results, reconfirming their quality and becoming well known. Over the years, Purcari has achieved not only royal medals and honors but also the constant appreciation of our consumers. All these distinctions reconfirm our quality, our work and our passion for vineyard and wine, and successfully complete the Purcari wines medal winner at the most prestigious contests, "General Manager of Purcari, Victor Bostan said.
Worth mentioning is that Purcari wines are created in collaboration with the Italian oenologist Federico Giotti and the Cuvée de Purcari sparkling wines, with the French expert Jérôme Barret.
In order to meet the quality standards, the wines are blindly tasted and rigorously analyzed by a team of international experts. At Mundus Vini's 23rd edition, 4,311 wines were registered and analyzed by 175 experts from 40 countries.