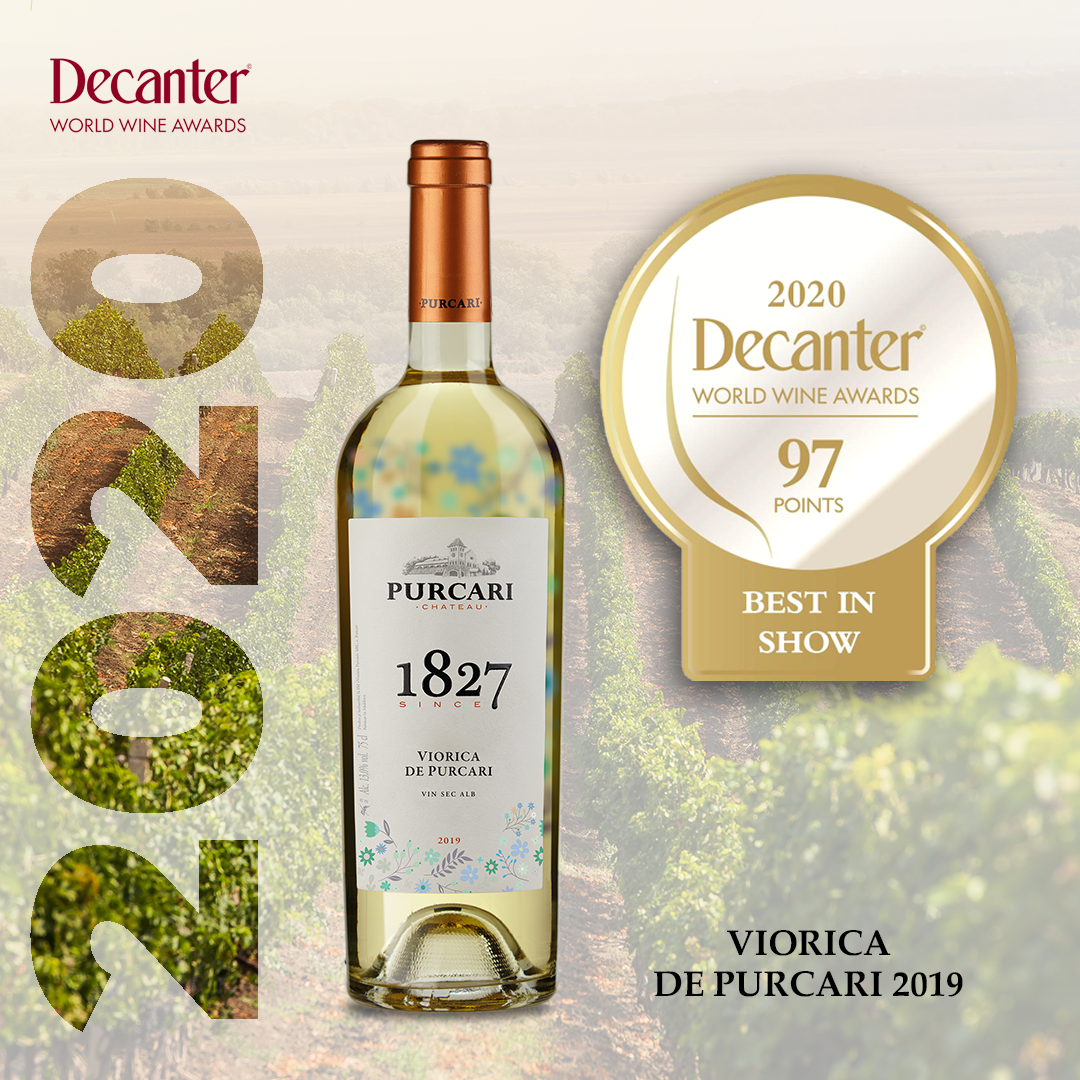 This year's Decanter World Wine Awards made Purcari Winery break its own 2019 record when our Chardonnay was awarded the Platinum Medal and 97 points. When we believed it couldn't get any better, 2020's Purcari wines brought home one more Platinum Medal and an amazing Best in Show award, along with another nineteen Gold, Silver, and Bronze medals. The stars of the show were Viorica and Traminer de Purcari – both rated at 97 points, chosen from 16.518 wine samples from all over the world tasted in blind by 116 wine experts.
Best in Show – Viorica de Purcari – 97 points
When we launched Viorica de Purcari a few months ago, the thought of making such a breakthrough with the Best in Show award at Decanter 2020 was far from us. And yet, our team has done it again and scored 97 points with this delicate, fresh white dry wine. Decanter judges described it as a wine with "very attractive aromas which resemble Muscat grapes mixed with honeysuckle and freesia flowers, and flavors of soft, sustaining purity. The fruits evoke grapes and white grapefruit with a little lemon rind, and it finishes clean, bright, and brisk. Freshness is part of its great-value charm, so this is clearly a wine for drinking, not storing."
Only 50 wines from those almost 17k samples were named Best in Show, so this makes Viorica de Purcari one of the 0.3% very best wines in the contest.
Platinum Medal – Traminer de Purcari – 97 points
Traminer de Purcari gracefully made it to the Top 218 wines who were rated with 97 points by Decanter 2020 judges, making it part of Top 1.3% best wines in the contest. The wine was described as delighting with "classic and attractive aromas of perfumed orange, Turkish delight, lemon sherbet, and grapey notes. Vibrant fruit with a lovely concentration supported by refreshing acidity. It ends in a lingering finish with memories of aniseed."
Gold medals for Negru de Purcari and Rara Neagra
Negru de Purcari keeps on gaining admiration and medals, as a genuine pinnacle of Moldovan winemaking. Created in synergy with modern technology and traditional methods. This tribute to old ages of winemaking comes with subtle aromas and a perfect balance between fruitiness and spices. Opulent and round in taste, velvety, with subtle acidity, this wine makes you comprehend the legacy of Moldovan winemaking. Judges described it as having notes of "savory spice, dried tobacco, cedar and nutmeg undertones framed by dark plums and blackcurrant notes. Lovely juicy fruit intensity polished and very fresh on the palate."
Rara Neagra, with its "Expressive nose showing lively red cherries, black fruits, garrigue, vine tomato, and floral notes. Ripe silky tannins, really elegant and mouth-filling. Vibrant and persistent."
Silver and Bronze medals were awarded to:
1. Freedom Blend 2018
2. Alb de Purcari 2017
3. Cuvee de Purcari Rose Brut
4. Negru de Purcari 2017
5. Negru de Purcari 2016
6. Vinohora Rara Neagra Malbec 2018
7. Rose de Purcari 2019
8. Cuvee de Purcari brut
9. Cuvee de Purcari Feteasca Alba
10. Cuvee de Purcari extra brut
11. Grande Cuvee de Purcari 2016
12. Chardonnay de Purcari 2019
13. Pinot Grigio 2019
14. Sauvignon Blanc de Purcari 2019
15. Malbec de Purcari 2018
16. Vinohora Feteasca Neagra Montepulciano 2019
17. Vinohora Feteasca Alba Chardonnay 2018.
Congratulations to all the winemakers from Purcari Winery and let us all celebrate this amazing victory for Moldova with a glass of Purcari Winery!